Emblem Health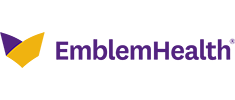 If you're looking for EmblemHealth health insurance quotes, you need not go far. Vista Health Solutions can connect you with leading health insurers in your area. With Vista Health you can find reliable health insurers with quality health plans like EmblemHealth health insurance. We make finding health insurance convenient for you. By entering your zip code you will find all the plans available for you including EmblemHealth health insurance plans. Our site makes it easy for you to compare the plans side by side. And should you need any clarification, you can just call our customer service number and our representatives will gladly assist you.
Established in 2006 when GHI (Group Health Incorporated) and HIP (Health Insurance Plan of New York) were acquired. They work together to provide health insurance coverage to over 4 million New Yorkers. EmblemHealth members have access to over  92,000 providers. They offer health insurance products such as POS plans, HMO plans and PPO plans. Aside from the various health care products, they also provide disease management programs, claims processing, customer care, grievance and appeals resolution, Medicare enrollment processing, and telesales.
Please use the above  link to generate an EmblemHealth Instant NY Health Insurance quote.